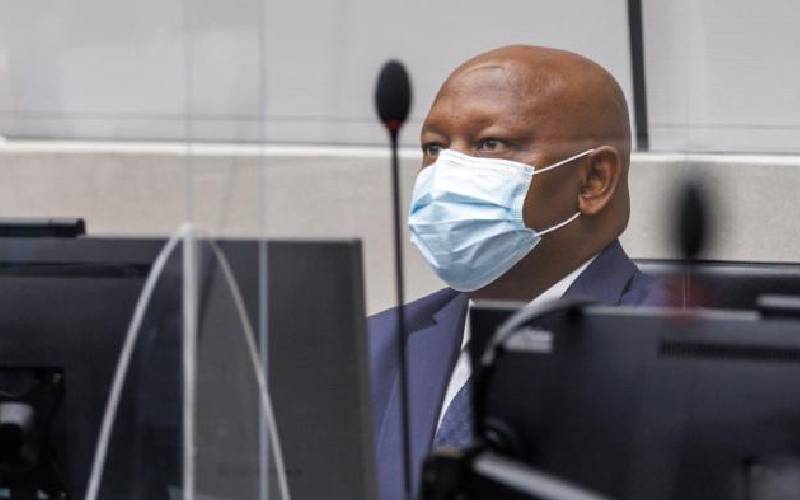 Witness admits implicating Gicheru for ICC favors
A witness against lawyer Paul Gicheru has apologized for lying to implicate him in order to curry favor with the International Criminal Court.
P-0516 told the ICC trial court that his life was in danger after his friends started to disappear and that he had to prepare information to convince ICC investigators to admit him into their program and to give him security.
"I apologize for making up the statements. It's because some of my friends back home were being killed and I didn't know who was killing them. I was confused because I knew people were following me and my life was in danger," the witness said.
The witness admitted that when he approached ICC investigators in 2015, his interest was to ensure his safety and that of his family even if it meant telling lies to implicate Mr Gicheru who faces charges of witness interference before the court in The Hague.
According to the witness, he was recruited into the ICC in 2012 by another person to testify in the crimes against humanity charges against Vice President William Ruto and journalist Joshua Sang and that he would share what he was paid by the court.
He confirmed that he initially agreed to be a witness, but when he failed to get support and a promise of a good life from the ICC, he withdrew from the case against Dr Ruto and returned to the country.
"It is true that I lied to be admitted into the ICC program, but when circumstances changed, I returned to the country until January 2015, when I contacted the prosecutor's office because I felt my life was in danger," he said.
P-0516, who was being cross-examined by Mr. Gicheru's lawyer, Michael Karnavas, told trial judge Maria Samba that he had three options: if he wanted the ICC to help him, either left to himself or that the government offers him protection.
He testified that he chose the first option of obtaining assistance from the ICC, with the condition of recording a statement on alleged witness interference by Mr. Gicheru.
"Maybe if I hadn't taken this position, I wouldn't be alive today. My family went through many turbulent times and my children stopped going to school. I have had to invent things to secure my life," he said.
The hearing continues.