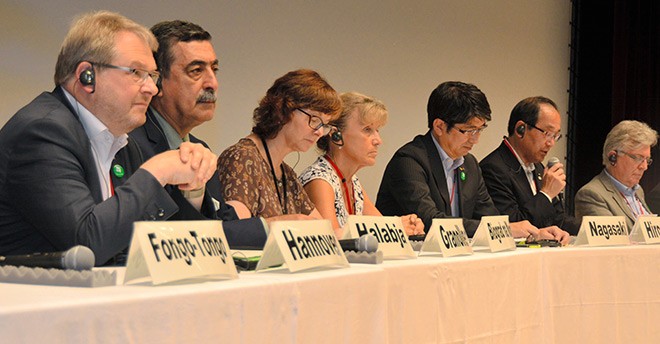 Russian city to participate online in anti-nuclear conference in Hiroshima
HIROSHIMA — As the war in Ukraine rages on, the Russian city of Volgograd will join online more than 140 cities around the world participating in the two-day Conference of Mayors for Peace, which opens here on October 19.
The decision by Volgograd, formerly Stalingrad, to attend the conference comes amid growing fears that Russia, which has invaded Ukraine, could use nuclear weapons in the war.
Volgograd is one of 14 vice-presidential cities of Mayors for Peace, an international non-governmental group calling for the abolition of nuclear weapons.
Hiroshima Mayor Kazumi Matsui, President of Mayors for Peace, welcomed Volgograd's expected participation in the general conference. Stalingrad was the site of one of the bloodiest battles of World War II.
"I believe it's because the city has a deep understanding of Hiroshima as a city that saw huge human sacrifice during the war, just like our city," Matsui said.
At the meetings, members of the group aim to build global momentum for the abandonment of nuclear weapons in solidarity with cities across national borders.
Akira Kawasaki, International Steering Group member of the International Campaign to Abolish Nuclear Weapons, Nobel Peace Prize laureate, hailed the framework of Mayors for Peace, where cities of nuclear powers and non-nuclear powers meet.
"The general conference will provide a valuable opportunity where members, including cities from Russia and its allies, can discuss in a balanced way how wrong the use of nuclear weapons is as concerns grow over the use potential of Russia," Kawasaki said.
Mayors for Peace was formed in 1982 with Hiroshima Mayor Takeshi Araki playing a leading role in its creation.
The group lobbied the Hague-based International Court of Justice to rule that the use of nuclear weapons violates international law and urged nations to ratify the Treaty on the Prohibition of Nuclear Weapons (TPNW). ), which entered into force in 2021, at the earliest. .
As of October 1, 8,213 cities from 166 countries and territories are members of the group, whose secretariat is based in Hiroshima.
Hiroshima and Nagasaki, one of the vice-presidential cities, take turns hosting a general conference that is held in principle every four years.
The latest session is the first time Mayors for Peace will allow member cities to attend digitally alongside others whose representatives will attend in person.
According to the secretariat, leaders of 142 cities from 27 countries have expressed their intention to participate in the meetings.
Secretariat officials said five cities in Ukraine are member cities, including Kyiv, Odessa and Dnipro. But they did not respond to their presence.
Besides Volgograd, Mayors for Peace has 66 other Russian member cities.
Volgograd entered into a twinning agreement with Hiroshima in 1972. Since then, the two cities have promoted exchange programs for young people on peace activities.
Matsui and other officials were due to visit Volgograd in the fall as part of events commemorating the 50th anniversary of ties between the sister cities.
But the Hiroshima city government canceled the planned visit after Russia invaded Ukraine, citing security concerns.
Russia's attack on Ukraine has also triggered a new initiative to strengthen solidarity for peace in many cities, mainly in Europe.
During the three months of April, 110 cities from Germany and other countries joined Mayors for Peace.
Although the US government is adamant about not signing the TPNW, many US cities support the nuclear ban.
Last year, the United States Conference of Mayors, a nonpartisan group, passed a resolution calling on the US government to adopt the TPNW and take immediate action to eliminate nuclear weapons arsenals.
Among those cities is Des Moines, Iowa, another Mayors for Peace vice-president city.
"We want to create an environment where states can't help but hear what individuals (calling for denuclearization) have to say, who are joined and supported by their local governments on their views," said Matsui.
(This article was written by Rikuri Kuroda and Yuhei Kono.)