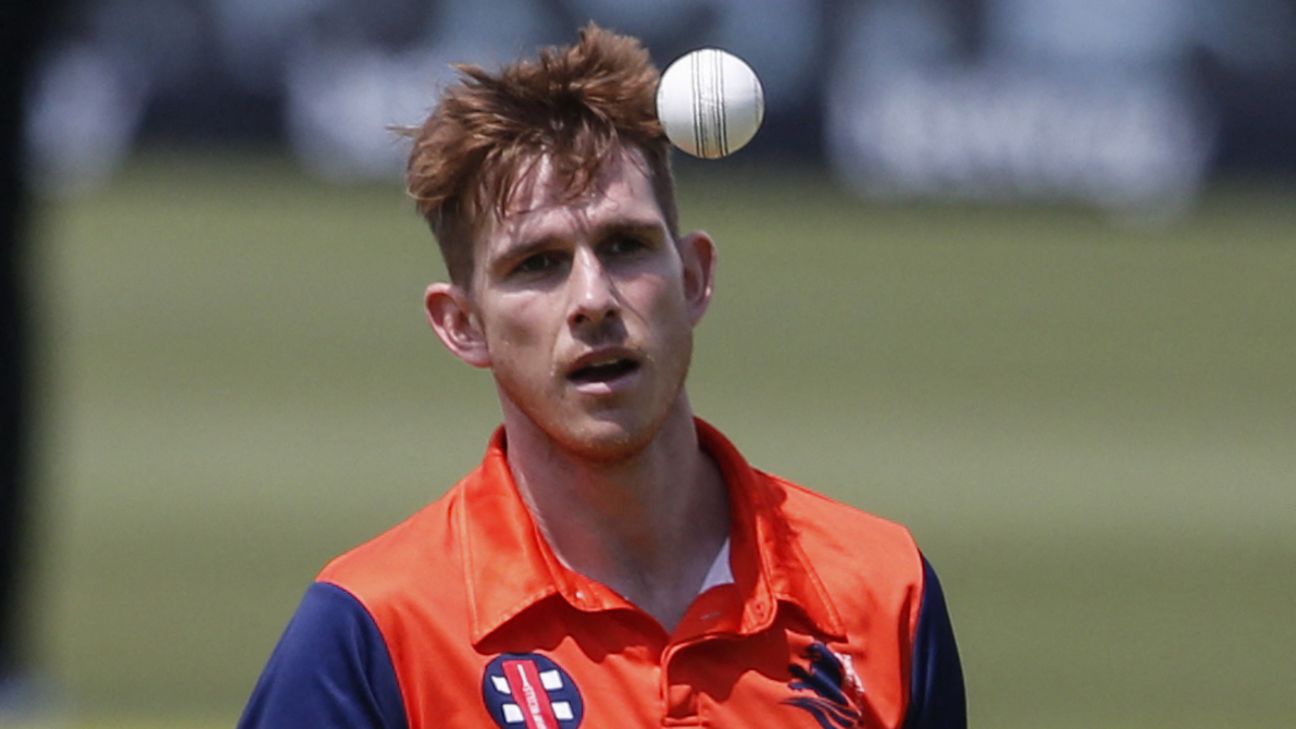 Netherlands vs England 2022 – Fred Klaassen
Fred Klaassen laughs at the end of a sprawling five-minute response on his journey in international cricket. "It's certainly not the same as most players," he says in a thick New Zealand accent, "but that's how it goes."
Many cricket fans see the idea of ​​nationality in binary terms, but Klaassen is a living, breathing counterexample: born in Sussex, raised in New Zealand and Australia, representing the Netherlands. Associated cricket is filled with players who have similar stories, including many other players from the Dutch squad who will face England in three ODIs at Amstelveen next week.
As his surname suggests, Klaassen's ties to the Netherlands are strong, even though he only set foot there when he was 16. He has had a Dutch passport since birth. "My Dutch heritage has always been part of my life," he says.
His grandfather was born in the southern industrial city of Eindhoven. "They were a pretty poor family," Klaassen says. "His mother actually died after he was born, so he was raised by his sister, and then his father met another woman: he ended up having 14 siblings who lived in one house.
"He fought in Indonesia with the Dutch in World War II, and when he returned to the Netherlands, he realized that his life had been pretty shitty. He wanted a new life and in 1955 he was got on a boat, like a lot of Dutch people did in those days. He emigrated to New Zealand, where there's a huge Dutch community. It's a young country, so a lot of people emigrated from somewhere – there are only two or three generations."
Klaassen is a late developer by cricketing standards: he signed his first contract with Kent shortly before he turned 26. As he points out, this is the average age at which county cricketers leave the game, according to the Professional Cricketers Association. His dream of playing professional had "faded a bit" in his early 20s as he struggled for opportunities, before spending time playing club cricket in the UK and the Netherlands.
"Growing up I always wanted to be a professional cricketer, but I didn't have the opportunity in New Zealand," he says. "I finished my education and college there and after graduation I did a bit of gardening and worked in a few cafes to do some hospitality work – pretty mundane jobs.
"After about 12 months in the Netherlands I realized there might be an opportunity to play for the Dutch team. There was a new coach coming in, Ryan Campbell, who is probably the biggest influence in my cricketing career so far. He gave me the opportunity and during my year with the Dutch team my cricket really improved – probably because I was in this kind of professional environment which I've wanted to since I was 17.
"When I got my chance with the Dutch team, I just decided to put all my time and effort into cricket and see where I would end up.
"I'm 29: most guys my age are senior players or captains, or have played for England, but my career is very different. I still feel quite young as a cricketer because I haven't had a long professional career. I need to learn on my feet a little faster. I'm not ten or 15 years old.
After making his Dutch debut in 2017, Klaassen made two T20 friendlies against Kent a year later and won 4 for 44 from his eight overs, including wickets from Carlos Brathwaite and Joe Denly. Kent liked the look of the tall left-arm dressmaker and wondered if he could give their offense a point of difference; after a brief trial, he signed professionally later that year.
Since then he's been a key player in their T20 side: he was their second wicket-taker when they won the Blast in 2021, got a contract extension until the end of 2024 and was retained by Manchester Originals after a solid season. in the inaugural cent.
Kent gave Klaassen a level of financial security almost impossible to find in associate cricket, but the downside was that his county commitments limited his availability for the Netherlands. He has been named in the squad to face England but as we speak he only expects to be available for the third ODI and is expected to arrive in Amsterdam on the morning of the match, the day after the game against the Gloucestershire in the Blast at Canterbury. .
In theory, counties must allow their players to play for their associated teams in ICC events, qualifiers, Super League ODI and any ODI or T20I against a full member; in practice, players and boards accept that enforcing this protocol would result in some players losing their agreements with the county, and others withdrawing from international cricket altogether.
"It's a bit different for the Netherlands compared to, say, playing for England," Klaassen says, "especially this season because there's a long list of Dutch fixtures in the middle of the summer of English cricket. "It makes things very difficult. It's quite chaotic, but I love playing for the Dutch team.
"You don't get the chance to play international cricket all the time, especially against some of the test nations they have this summer. I want to be in as many as possible but unfortunately that's the nature of playing county cricket in England and then trying to play on the Dutch side as well, and obviously there are a few other guys in the same boat who haven't been available.
"Kent has been pretty fair the last couple of years letting me play, but competing properly this season makes it a whole lot harder. At the end of the day, Kent pays my salary and you have to deal with the hand that feeds you. The nature of Dutch cricket is that there's not a lot of money there, and probably not a lot of power."
Earlier this year, several players who were in the final years of their respective contracts missed the Netherlands tour of New Zealand in order to spend pre-season with their counties. "We have to take care of our careers first," says Klaassen. "Each individual has to juggle with themselves. It's not easy.
"To miss the experience of Colin Ackermann, Roelof van der Merwe, Timm van der Gugten – that's a big loss. But saying that, the young Dutch team who played without the county players against the West Indies did very well They were unlucky not to get a win actually, especially in that last game, so it's a great experience for them.
Among those players, Klaassen highlights two 19-year-olds in Vikramjit Singh, the elegant opening hitter, and Aryan Dutt, the offspinner who fired Nicholas Pooran three times in as many innings against the West Indies. He also has high hopes for Bas de Leede, the 22-year-old all-rounder: "It's the best thing going through Dutch cricket at the moment…he's got a host of talent. He could really go to the top.
"They'll only get better if they jump from deep. That's what I take away most from professional cricket. You think the players are so far ahead of you or you watch them on TV and put them on on a pedestal. Then you take them on and play them a little bit more and you start to realize that you can compete."
Ryan Cook, the interim head coach, will continue to take charge against England. (Campbell has been sidelined with heart problems.) The next major assignment for the Netherlands will be the T20 World Cup qualifiers in Zimbabwe next month, and they will be looking to put in a surprise exit in the phase. of initial groups in 2021 behind them.
As for their chances of causing an upset, as they did in the 2009 and 2014 T20 World Cups? "The next step for us is to put together a full team performance," says Klaassen. "We've seen Ireland beat England in 2020 and in the last two T20Is against England the Dutch have toppled them. It's a bit of a banana peel you might say.
"New England manager Matthew Mott probably has a bit of an expectation and a bit of pressure on him – he doesn't want to lose to a nation that doesn't play Tests, especially with [Brendon] McCullum has just won the first test. On Dutchies day, if everyone clicks, we could definitely win."
Matt Roller is associate editor at ESPNcricinfo. @mroller98