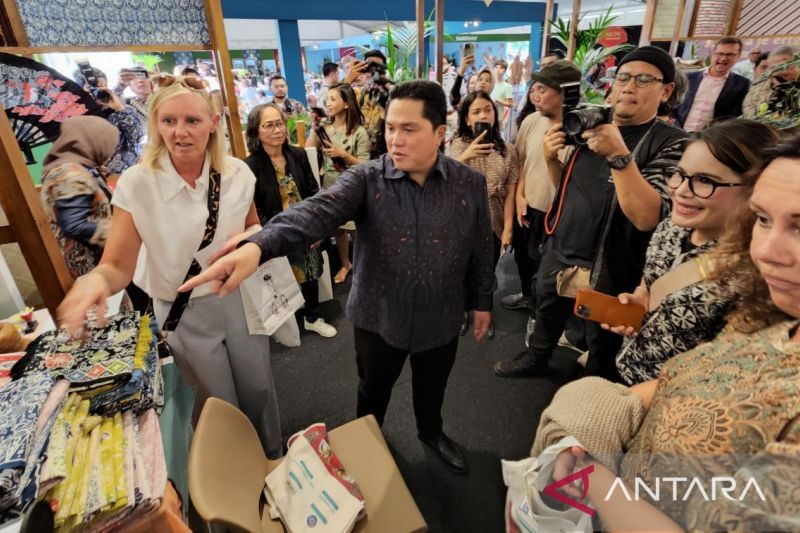 Minister Thohir asks the Indonesian Diaspora to support MSMEs
The synergy developed within the diaspora has created new jobs for Indonesians, encouraged MSMEs to go global and attracted international investment.
Jakarta (ANTARA) – Minister of Public Enterprises, Erick Thohir, has urged the Indonesian Diaspora to play an active role in supporting exports of products produced by Indonesian Micro, Small and Medium Enterprises (MSMEs).
Indonesia's globalized Diaspora network and community is a valuable asset in enhancing and accelerating national development, he said.
"The synergy developed within the Diaspora has succeeded in creating new jobs for Indonesians, encouraging MSMEs to go global and attracting international investment. We hope that positive cooperation and collaboration can make further progress to develop the 'Indonesia," Thohir said in a statement released here on Tuesday.
Related News: Internet Marketers Push MSMEs to Enter Digital Ecosystem: Minister

The Indonesian Diaspora plays a key role in upholding the good reputation and image of the nation through its active participation in promoting business opportunities and potential as well as Indonesian cultural heritage on the world stage, noted the minister.
Thohir said overseas Indonesians have an important role to play in consolidating efforts to bring Indonesia to the world stage. Under full diplomacy, the Indonesian diaspora has also made significant contributions to the national economy and development, he added.
"I would like to express my utmost gratitude to the Indonesian Diaspora, who presented their best contribution to the nation," the minister remarked.
He called on overseas Indonesians to support the government's strategic policies globally, especially on the MSME export agenda.
Related News: G20 Presidency highlights role of MSMEs in economic recovery

The Minister also commended the SOEs for allowing their partner MSMEs to participate in the Tong-Tong Fair 2022 in The Hague, the Netherlands, from September 1 to 11, 2022.
Thohir expressed hope that the Dutch festival would serve as a vehicle for public enterprises to help MSMEs reach the global market and upgrade.
Tong-Tong Fair has a long history with its first edition held in 1959, therefore, the festival is an appropriate platform to promote Indonesian economy and tourism to the Indonesian diaspora residing in the Netherlands, a he added.
Related News: Bali hotels almost 100% ready for G20 events: minister
Related News: Ministry and Pertamina help MSMEs reach global market through festival