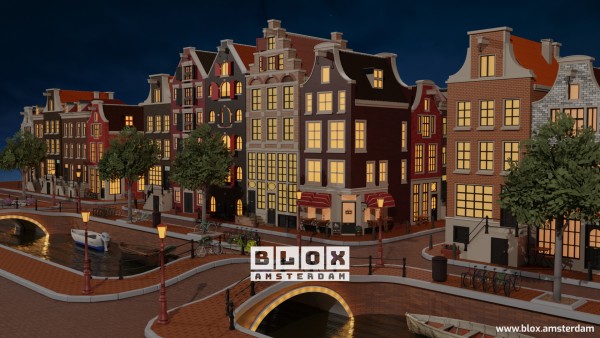 Introducing Blox Amsterdam, a collection of 1000 NFTs powered by the Ethereum Blockchain, focusing on building 3D Metaverse houses
Blox Amsterdam is excited to announce the launch of a collection of 1000 NFTs powered by the Ethereum blockchain, focusing on building 3D metaverse homes. Powered by WOOW Digital Marketing, an Amsterdam-based but international independent strategic and creative digital marketing and production agency, Blox Amsterdam is on a digital mission to bring Amsterdam to the Metaverse.
The world was still getting used to having cryptocurrency, only for it to be hit by unplanned NFTs. Blockchain news started buzzing with news of millions of dollars coming from the sale of NFTs.
NFTs are definitely having a moment. They are the new form of art investment with NFT art creators including artists, gamers and brands across the culture spectrum. They're so valuable that the most expensive NFT ever sold for hundreds of millions of dollars, at least on paper, and that's not the only successful case with many more artists making headlines; the market turns out to be a growing opportunity.
NFTs make people rich, especially collectors who can mint works of art at excellent prices and Blox Amsterdam, with its collection of 1,000 unique NFTs, is poised to follow this trend.
With its NFT Metahomes, Blox Amsterdam is about to project Amsterdam's artistic heritage, beautiful homes and beautiful culture to the world. "We aim to grow Amsterdam Metahomes across diverse communities, starting with Decentraland and expanding our presence to other real estate experiences. It will be an immersive world for every user to enjoy the Amsterdam spirit on the metaverse," remarked Sercan, co-founder of the project.
There are 8 neighborhoods in Blox Amsterdam with 32 different property types that differ from each other separated into 1000 maps. All are valuable and some have factors that influence home value just like in "real" life. This value defines the amount of utility token to accumulate for Blox Amsterdam hodlers.
100% of royalty income is accumulated in the community wallet, which is very crucial for the sustainable future of a project.
A strike date will be announced soon. So far, there are 1000 NFTs. 98% of the total supply will be allocated to the market while Blox Amsterdam will hold 2% for team and marketing purposes. There will be occasional redemptions with the community wallet.
To put the rise of NFTs into perspective, a $45 investment in CryptoPunks NFT in 2017 would have resulted in a whopping $2,009,680 return on investment in 2021. For this project, one thing is certain, with the insight and insight of WOOW Digital Marketing, the Blox Amsterdam NFTs will undoubtedly be a smart investment choice for all NFT collectors and crypto enthusiasts.
For more information on the Blox Amsterdam project, visit their website at https://blox.amsterdam/
Media Contact
Company Name: Blox Amsterdam
Contact person: Sercan B
E-mail: Send an email
Country: Netherlands
Website: https://blox.amsterdam