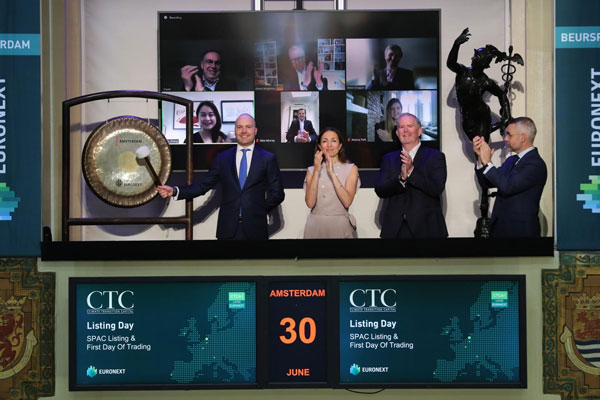 Climate Transition Capital Acquisition 1 listed on Euronext Amsterdam
Successful fundraising of 190 million euros

10th listing of SPAC on the Euronext markets in 2021
Euronext today congratulates Climate Transition Capital Acquisition 1, a Special Purpose Acquisition Company (SPAC) strongly focused on climate transition, with its listing on Euronext Amsterdam (ticker code: CTCA1). This is the 10th listing of SPAC on the Euronext markets since the start of the year.
Climate Transition Capital Acquisition 1 is an investment platform whose mission is to accelerate the climate transition through the mobilization of global capital markets. SPAC is looking for leaders in the climate transition. CTCA1 will seek opportunities in the decarbonization of energy, the decarbonization of transport and the decarbonization of industry, particularly in "hard to reduce" sectors.
The newly listed PSPC is supported by a team of executives with many years of experience in the global energy industry. Climate Transition Capital Acquisition 1 successfully raised 190 million euros during its initial public offering.
Shaun Kingsbury CBE, Non-Executive Director of CTCA1, said: "The climate challenge is very urgent and requires us to act now and to act at scale by raising capital to finance businesses and businesses that will provide a cleaner and greener future for us all. At CTCA1, we believe that by matching public market capital to leading green businesses, we can accelerate the transition to a net zero future.
Caption: Joris Rademakers, Executive Director of CTCA1, and his team rang the bell this morning with René van Vlerken, Head of Listing of Euronext Amsterdam, to celebrate the listing of Special Purpose Acquisition (SPAC).
About Climate Transition Capital Acquisition 1 We are not on track to sustain a 1.5 ° C rise in temperature, with potentially catastrophic consequences for billions. By 2050, more than $ 100,000 billion must be invested in decarbonizing the global economy in order to maintain this goal and we believe that only public capital markets are important enough to achieve this. Climate Transition Capital Acquisition 1 is one of the first European SPACs to focus on climate transition. By accelerating access to public growth capital, CTCA1 believes that climate SPACs could become an essential tool to mobilize capital towards net zero. For more information, please visit https://climatetransitioncapital.com/